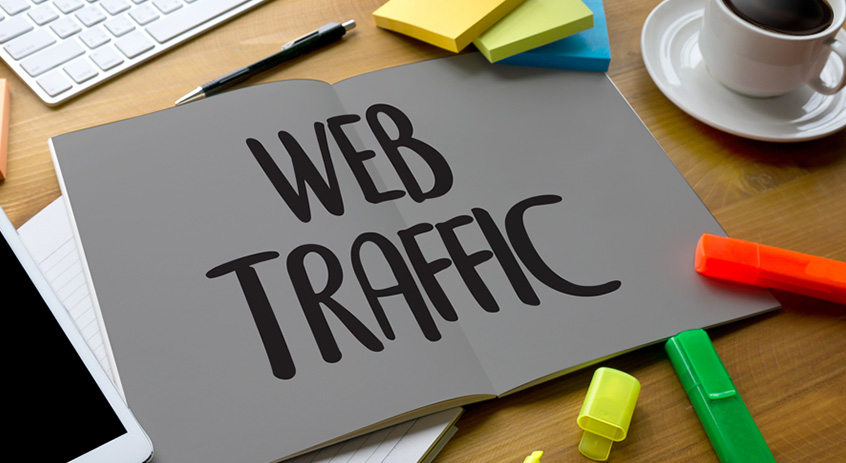 Websites are one of the most important tools that business owners employ in efforts to get their products and services across to their target audience at home and abroad. Owning a website is a critical element in building an online presence and a fully optimized website serves as a means to let users know what a brand is all about before any interactions even occur.
Website Traffic refers to the overall amount of users who visit a website and is commonly used as a metric to measure a business's capacity to attract an online audience.
There are a couple of ways that website traffic can be improved and a good number of them are available at literally no cost. The quality of content and design of a website plays a huge role in keeping a website captivating and engaging while the use of readily available web data tools such as Google Analytics can provide details about every conceivable aspect of a site, from its most popular pages to visitor demographics. SEO metrics provide information that can be vital to the success of promotional and content strategies if used effectively.
Here are 6 proven ways to boost website traffic:
Create Attractive Content with irresistible Headlines and Visuals
Posting great content with the visuals to match is a sure way to get more visitors to a website. Statistically, websites with images get 94% more views than websites with just plain text. Visuals can be images, photographs, GIFs, animations, or illustrations that help add more visual context to website text.
It is important to recognize the key interests of a webpages audience and what will attract their attention over time, this is what should guide the creation of posts. These evergreen posts will accumulate traffic and links over time.
Headlines are one of the most important parts of your content. Studies have shown effective blog headlines to drive 500% more traffic. Without a compelling headline, even the most comprehensive blog post will go unread.
Link internally and get External links
Internal and External linking is a way to get users to view other pages on your website. Such a link can be led to another page within your website (Internal linking) or a page on another website entirely (External linking).
Internal linking is quite effective and it involves adding at least 2 or more links to other pages on your site to a web page. This will help drive traffic to those pages, but also, it keeps visitors on your site longer, gets them to view more pages on your site, and allows them to get more value out of your site. All of which improve your ranking and drive more traffic to your website.
External links are links on a web page that lead to web pages on another website. External links are sometimes called outbound links are an important part of search engine optimization.
One of the most influential Google ranking factors is the quantity and quality of links to your website. The more links you have from credible sites with high Domain Authority, the more you increase your own Domain Authority. The higher your Domain Authority, the higher your rank, and the higher your traffic. Not to mention any traffic you get to your site from the link itself.
Improve Site Speed
A slow website is an automatic turn-off to any web user as it is an indication of a treacherously ugly user experience. Slow websites have an incredibly high bounce rate, Speed has always been a ranking factor for websites, and it determines the amount of traffic that a website will get overtime. To ensure fast loading, websites are expected to be as technically optimized as possible, including image file sizes, page structure, and the functionality of third-party plugins. The faster your site loads, the better.
Make Website Mobile Friendly
Today, mobile devices account for more than half of the web traffic worldwide. This further resounds the fact that more traffic occurs on mobile than on desktop devices. Fully optimizing a website for mobile devices makes navigation and access on mobile more convenient leaving the user with a great user experience. The most basic websites now employ responsive design with a mobile-first approach to make the page render spectacularly on mobile. This is good for website traffic.
Start an Email Newsletter
Newsletters are email messages sent at defined intervals of time be it weekly, monthly, or quarterly to a selected audience. They are effective at driving up website traffic because a typical newsletter email contains vital news and updates to keep the audience updated about products and services that are currently available and as they become available over time. They are cost-effective and they open up an avenue to get personal with the audience and communicate intricate content while building long-lasting relationships. 
Paid Advertisement
Advertisements typically have a cost implication but when done right they could easily be a great investment in the long run. Many websites have chosen the option of paid advertising campaigns. Search, display, and social ads are all excellent ways of attracting highly targeted visitors to your site at scale. Each paid media channel has its pros and cons, so think carefully about your objectives before you reach for your credit card. A good place to start is Google ads If you're hoping that more traffic to your site will also result in more sales.